Product Menu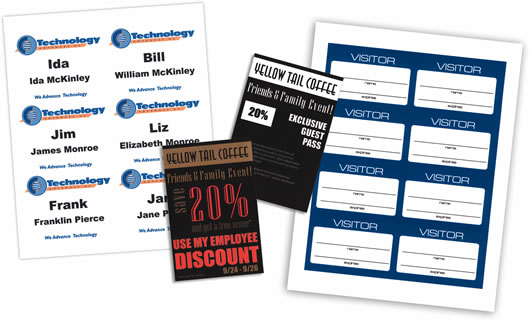 Custom, Nametag Inserts
We print your logo, company colors, and/or other art (but not participant names) onto the nametag inserts for you.
100 pound paper.
Over a dozen paper colors. S Series is white paper. L Series is colored stock. Both series are shown below.
Choose from 16 ink colors or indicate Pantone® ink colors.
Optional back side printing (one color). Perfect for instructions, disclaimers, emergency information, etc.
Sold in packs of 500 inserts. Prices below represent price for 500 nametag inserts.
See images below for perforation patterns.
Each sheet of inserts is 8 1/2" x 11" and works with most printers.
This product is part of our "Big Meeting" collection (product IDs that start with "J-"). When ordering one or more "Big Meeting" products, there is a minimum order requirement of at least 65 dollars worth of "Big Meeting" products in your cart before checkout.
S Series (white stock)

MN108
3 1/2" x 2 1/4"
MN107
4" x 2 1/2"
MN129
4" x 2 1/2"

MN103
4 1/4" x 3"

MN104
4" x 3"
MN105
4" x 3"
MN106
4" x 3"
To place an order, click desired ink option in first column below. All links are nametag inserts that we print for you (we print your company logo, etc., not participant names).

1 pack

2-4 packs

5-9 packs

10+ packs

1 Ink Color

171.00

90.00

57.60

39.60

2 Ink Colors

261.00

144.00

90.00

54.00

3 Ink Colors

396.00

207.00

135.00

63.00

4-Color Proc.

495.00

261.00

162.00

90.00
L Series (colored stock)

MN112
4" x 2 1/2"

MN110
4" x 3"

To place an order, click desired ink option in first column below. All links are nametag inserts that we print for you (we print your company logo, etc., not participant names).

1 pack

2-4 packs

5-9 packs

10+ packs

1 Ink Color

216.00

144.00

90.00

72.00

2 Ink Colors

351.00

207.00

117.00

90.00
View All Nametag Products
<< back